An age-old question in the minds of men everywhere is whether women care about the size of a man's penis.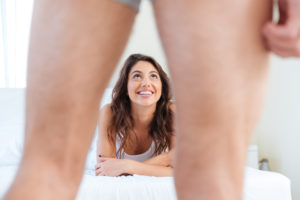 Research has been done in a quest to find real answers. Studies consistently show that while many women don't have a preference on the matter, many prefer a larger-than-average penis size. This revelation doesn't need to be a source of discouragement for men with small or average-sized penises, since safe penis enlargement procedures are available. This type of cosmetic genital enhancement has become more and more common.
Study on Penis Size
Among the authoritative studies on women's point of view on penis size is one that was published in The Journal of Sexual Medicine in 2014. At the University of the West of Scotland, psychologists and researchers surveyed 323 participants. All were women, and the majority were university students. The participants were asked to describe their sexual experiences and indicate whether penis length made a difference, as far as experiencing vaginal orgasms. About 160 of the women had experienced vaginal orgasms plus had adequate experience to have formed a conclusion regarding whether the length or size of a penis affects sexual pleasure. Among those participants, almost 34% expressed a preference for longer penises. Another 60% said length did not matter to them, and 6% found that longer penises were less pleasurable. Another recent study shows that women are more concerned about the girth or circumference of a man's penis. For one-night-stands, women selected 3-D models of penises with slightly larger girth, compared to the model chosen for a lasting relationship. In these cases, length preference was the same.
The Debate about Women's Orgasms
The science of what causes women to experience orgasms is a subject of much debate. Researchers in one line of thought believe stimulation of the interior parts of the clitoris cause vaginal orgasms. This would mean the size of a penis may not make a difference in a woman's ability to have a clitoral orgasm. Other researchers argue that clitoral orgasms are totally separate from vaginal orgasms. If these researchers are correct, the size of a penis is more likely to give a woman the ability to experience an internal orgasm. Researchers associated with the findings about women's preference for a
penis with a larger girth
said that a larger circumference helps a woman to achieve an    possibly because it may bring the clitoris nearer to the vagina during intercourse. Longer penis length, on the other hand, can lead to cervical pain.
Contact Loria Medical Today
Dr. Victor Loria has performed nearly 5,000 penis girth enhancement procedures using a revolutionary method. With no cutting, scalpel, stitches, or general anesthesia, Dr. Loria offers a unique, effective, minimally invasive option for penis enlargement. The results are in and studies support the notion that bigger is better. If you've always wanted to do something about the size of your penis, why wait? Contact the office of
Loria Medical
at 877-DR-LORIA (877-375-6742) today.