Yoga is all about connection and creating a mind/body union so it's only natural that practicing yoga would carry positive vibes over into your sex life. Yoga also creates endurance which makes you feel strong and good about yourself. Learn about 10 ways that yoga can spice up your sex life and give you that extra glow!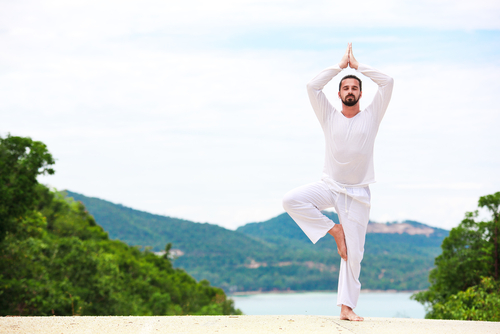 1) Increases Sensitivity The breathing exercises that are done during yoga help you to manage your stress. Yoga, prayer, and
meditation
can make your health improve by changing your gene activity patterns, which affect the response of your body to stress. The improved circulation, fresh oxygen, as well as the ability to focus your breath through your body will enhance your sexual sensitivity and responsiveness. 2) Better Orgasms The influence of yoga on the orgasms that you have during intimacy is two-fold. You will have more control of your sex organs and pelvic floor muscles. Harnessing this while you are having sex will help you have superior orgasms! 3) Improving Energy Learning how to alleviate stress and relax through breathing while you are physically active, as well as just having fun, will leave you feeling more energized. This is an invigorating exercise, simply because you are being good to your body. Best of all, you will get to have more endurance during intimacy with an increase in your stamina. 4) Body Acceptance and Knowledge The purpose of yoga is to embrace your body. You will be more aware of the limits and strengths of your body while you develop your physical strength, flexibility, and coordination, which will help you during sex. Yoga will also make you more confident, graceful and self assured in your movements. 5) Better Overall Fitness In yoga you use muscles that you don't normally use, so you will begin to feel more fit. Your body is going to be more toned since you are working out, and you could even notice that your metabolism increases. Better toning of your muscles will increase your responsiveness to sex as well. 6) New Positions you never thought of You will get the chance to try more types of positions during sex to heighten your pleasure by exercising these muscles. With more flexible joints, muscles, as well as a toned butt, abdominals, and thighs, you will get to take part in more exotic postures. 7) Better Foreplay Yoga and sex are very similar in that it is unwise and impractical to attempt something without first warming up, and this type of exercise reminds us that it's necessary to prime our bodies beforehand. 8) Get Your Glow On Yoga will give you a new take on life, as this practice will leave you feeling alive sexually since you will understand the connection of your mind and body better. You will also feel more confident in your sexual nature. 9) Relationship Boost Couples that do yoga together will learn how to breathe and move as one. They also learn how to put their energies in sync as they delve into their creativity and potential sexually. Various sexual dysfunctions could be effectively cured by yoga. It's said that yoga even offers cure for male impotency. Because of yoga's efficacy in improving your sexual life, it is being practiced by a good number of folks with the sole purpose of enhancing sexual drive. 10) Practice Tantra Yoga Among various types of Yoga, Tantra is said to be very much linked with sex. Tantra Yoga was a preferred practice in ancient India that uses sexual energy to attain higher states of consciousness. This practice of Tantra Yoga has recently gone through a renaissance as some folks prefer it over Viagra and other medications to gain a desired level of erection. Asanas of Tantra Yoga bring in required physiological changes to propel more secretion of sexual hormones. These hormones in turn help gain desired sexual
potency.
In addition to that Tantra Yoga also contributes to increased flexibility and freshness. These factors combine together to serve a unified purpose that improves your sexual life. Kamsutra offers around sixty yoga positions for ideal sex. These sexual positions have been proved effective in solving marital discord arising out of sexual dissatisfaction. Yoga could indeed be a very effective way of improving your intimate relationships and raising your sexuality to new heights. Contact Dr. Loria for a private
consultation
for a non surgical male enhancement that will improve your life in ways you cannot imagine! 877-375-6742.